A/part — 20 unique creations in 20 Antwerp shops
20 unique products - The result of 20 unique collaborations between fashion designers, creative talent and Antwerp shops - waiting to be discovered between 4 and 20 November in 20 Antwerp shops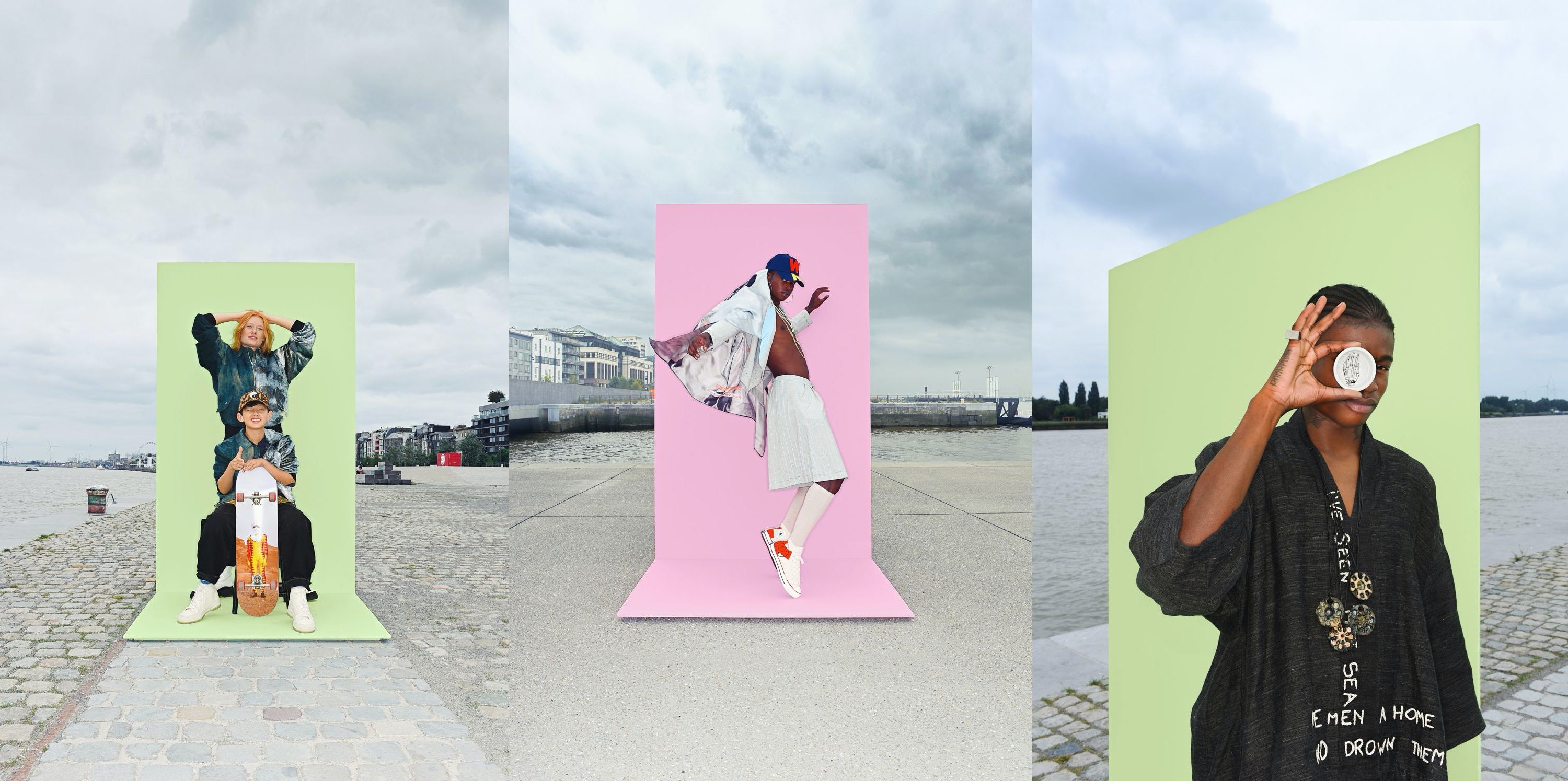 These 20 unique collaborations were set up for the reopening of the MoMu. Established fashion brands and emerging fashion designers, creative talent and Antwerp retailers worked together for the first time. The result of these 20 collaborations is 20 unique products, waiting to be discovered and purchased in 20 Antwerp shops between 4 and 20 November.
FASHION 2.021
A/part is a part of 'Fashion 2.021 Antwerp - Fashion/Conscious', a fashion festival to celebrate the reopening of Antwerp ModeMuseum in September 2021. The renovated museum will be celebrated throughout the entire year by way of an ambitious programme designed to highlight the Antwerp fashion industry in general.
Twenty unique collaborations were set up for A/part, pairing both established names and emerging talent in the fashion, art, music, film and retail sectors. 
CURATOR BALOJI
Artist and musician Baloji was approached to select the collaborations as curator. With his unique network and perspective of the sector, this multi-talented Belgian was able to create unexpected and original collaborations and stimulate creative cross-pollination across a variety of disciplines in a way no-one else could. According to curator Baloji, the public can therefore expect amazing collaborations and equally amazing and unique products.
20 UNIQUE COLLABORATIONS
The list of participating parties is impressive, ranging from actors and fashion designers to well-known retailers and musicians: A/part can count on a diverse and talented team. Such large retailers as JBC, ESSENTIEL ANTWERP, CAFÉ COSTUME and A.S.ADVENTURE are taking part, alongside new players like KOMONO and VIER. Fresh fashion talents including MERYLL ROGGE, D'HEYGERE, JULIE KEGELS and TOM VANDERBORGHT appear next to well-known names such as RAF SIMONS, CHRISTIAN WIJNANTS,  JAN-JAN VAN ESSCHE, duos AN VANDEVORST & FILIP ARICKX and WOUTERS & HENDRIX and WALTER VAN BEIRENDONCK. Other well-known names from the music industry such as TAMINO, actors including VEERLE BAETENS and designers and photographers such as PIETER STOCKMANS and MOUS LAMBARAT are all taking part.
20 UNIQUE CREATIONS
Each collaboration resulted in a tangible end product, the total offer will appeal to a wide audience with something for everyone's taste or budget. From jewellery and clothing to design objects: the finished result of each of the collaborations is surprising and unique every time, centring on creativity and innovation. The various creations will be temporarily available and for sale between November 4 and 20, 2021 in the 20 shops in Antwerp taking part.
The complete list of participants:
1. An Vandevorst & Filip Arickx / Lockwood Avenue 
2. Art By CASH / JBC
3. Bo(y)smans / VIER
4. Brandon Wen / Café Costume
5. D'heygere / DEEWEE / Ganterie Boon
6. Dodi Espinosa / Eat Dust
7. FAÇON JACMIN / Wouters & Hendrix
8. HNST / Veerle Dejaeger / Monar
9. Jan-Jan Van Essche / Tamino / Atelier Solarshop
10. Julie Kegels / Essentiel Antwerp
11. Meryll Rogge / Kiosk Radio / The Lot Radio / Lefto / Kim Ann Foxman / Copyright Bookshop
12. Miglot Fragrance Lab / Nathalie Vleeschouwer
13. Raf Simons / Pieter Stockmans / Donum
14. Tessa Dixson / Lacuna Studios / Billion Avenue
15. Tom Vanderborght / A.S.Adventure ​ 
16. Veerle Baetens / Jill Antwerp
17. Walter Van Beirendonck / Mous Lamrabat / De Makers Gallery
18. YNGR / Anthony Nti / Labels Inc.
19. Yuma Labs / Christian Wijnants
20. 42|54 / KOMONO
Download all productshots here
Download all campaign images here
Download the shopping plan with all addresses here
---
PRACTICAL INFO
https://www.momu.be/en/exhibitions/a-part
#ApartAntwerp
A/part will run from November 4 through 20, 2021
Opening event with late-night shopping: November 4, ​ 2021 from 5PM to 8PM in the participating shops in Antwerp
Press preview: November 4, 2021 at 4.30PM @ MoMu
Possibilities for interviews and shopping plan upon request:
[email protected] / [email protected]