Design platform FOR THE NOW celebrates 5th edition with 2 new binôme projects, a new exhibition hall and collaboration with Designer of the year. ​

​On September 23 and 24 the Gare Maritime at Tour & Taxis will once again be dedicated to design. In addition to the Brussels Design Market, the hall will also host FOR THE NOW (previously known as Contemporary Design Market) with a carefully curated selection of established and emerging Belgium based designers, working across various design disciplines and with a variety of mediums.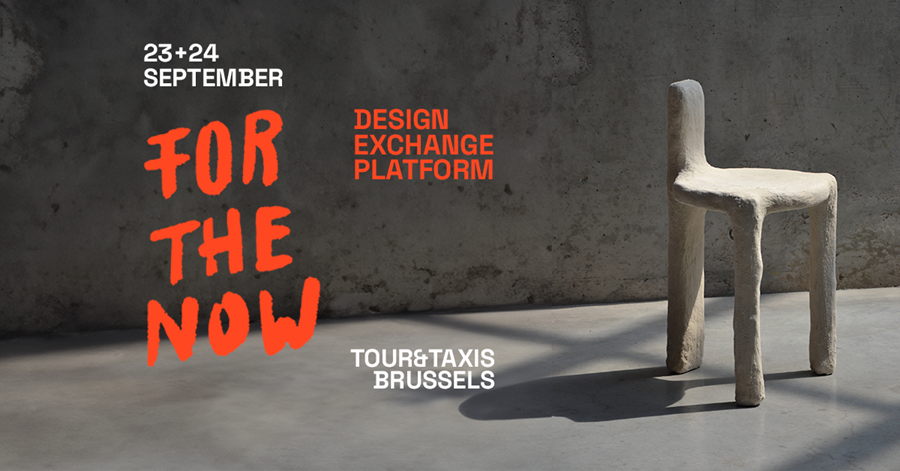 A new design exchange platform
After 4 editions the Contemporary Design Market changed its name to FOR THE NOW, to emphasize that it is stepping away from traditional design contexts and exploring new design idioms. FOR THE NOW reached out to more than 40 artists and designers of all backgrounds, thus inviting professional visitors and other design enthusiasts to discover the diversity in today's design scene.
'For the selection of the participants, FOR THE NOW specifically reached out to artists and designers from all walks of life and from a wide variety of backgrounds. Thus FOR THE NOW wants to contribute to a more inclusive design world and wishes to showcase design that is representative of a society that is constantly changing.' ​
​says co-organiser Hanne Debaere from Flanders DC.
Two new Binôme projects
With the BINÔME projects FOR THE NOW encourages experimentation by fostering dialogues between designers and creatives from various backgrounds and identities. ​
​This year the platform brings together two duo's from different cultural backgrounds: ​
​Gillis & Aniss, and Naomi Waku & Marijke Jans. ​
​The creative outcome of this exercise challenges the conventional notions of design and will be showcased at FOR THE NOW. 
DESIGNER OF THE YEAR
The Designer of the Year is the prestigious award initiated by Knack Weekend and Le Vif Weekend. For this 18th edition, Knack Weekend and Le Vif Weekend partnered with Flanders DC and Design September to present the Designer of the Year at FOR THE NOW. This collaboration stems from a shared commitment of providing a platform for Belgian design talent.
OVERVIEW OF PARTICIPATING DESIGNERS:
An Gillis & Nabil Aniss, Naomi Waku & Marijke Jans
​Alexandre Lowie - Antonella Valerio - Amgs Studio & Omarcity - Atelier Janda Vanderghote- Atelier Verdonck - Chloé Girten - Cloudwell Studios - Diana Bitar - Disarming Design from Palestine - Emma Terweduwe - Fractall - Frederik Van Humbeeck - ID&A Thomas More Mechelen - IMAGINAIR - Joe Sterck - Jord Lindelauf - KEWLOX - Laure Kasiers - LUCA school of arts - Mala Leche Design - Marianne De Cock - Marianne Sousletissulesoleil - Monique VOZ - Morevi - Pellegroms - Pepijn De Greef - Seppe Dombrecht - Stijn D'Hondt - Studio Nas - Studio DO - Studio PART - Studio Peter Van Riet - Suzanne Corcessin - TheAlfredCollection - Tiny Bastards - Volmaakt - Wouter Persyn - (The name of the Designer of the Year will be disclosed shortly)

​Download the complete catalogue here
FOR THE NOW 2023 - designers catalogue
PDF - 2.9 Mb
Download
Practical info
Saturday 23 September 2023 ​ 9-18h
​Sunday 24 ​ ​ ​ September 2023 ​ 9-17h
Gare Maritime, Tour&Taxis, Rue Picardstraat 11, 1000 Brussels
​​
​Tickets to FOR THE NOW are also valid for the Brussels Design Market - Europe's first vintage fair - which takes place simultaneously at Gare Maritime. ​ ​
​​
​Tickets & info via https://forthenow.be/
​
On Saturday 23 September the press is kindly invited to the opening & press preview (10h -12h) and to the Designer of the Year award ceremony (12h - 13h). ​
​
​Please RSVP if you would like to attend to [email protected]
About FOR THE NOW
FOR THE NOW is a curated presentation and sales platform for both established and emerging Belgium based designers, working across design disciplines and with a variety of mediums. It is a unique opportunity to discover new design, meet upcoming talents, and to acquire authentic design pieces.
FOR THE NOW is an initiative of Flanders DC & Brussels Design September.

​