The winners of the Henry van de Velde Awards 22 are known
The jury selected three winners in the categories Business Innovation, Consumer, Crafts, Design Research, Digital Product, Environment, Graphics, Habitat and Spaces. You will discover them on the brand new Henry van de Velde website, on which an overview of no fewer than 28 years of design prizes has been mapped out.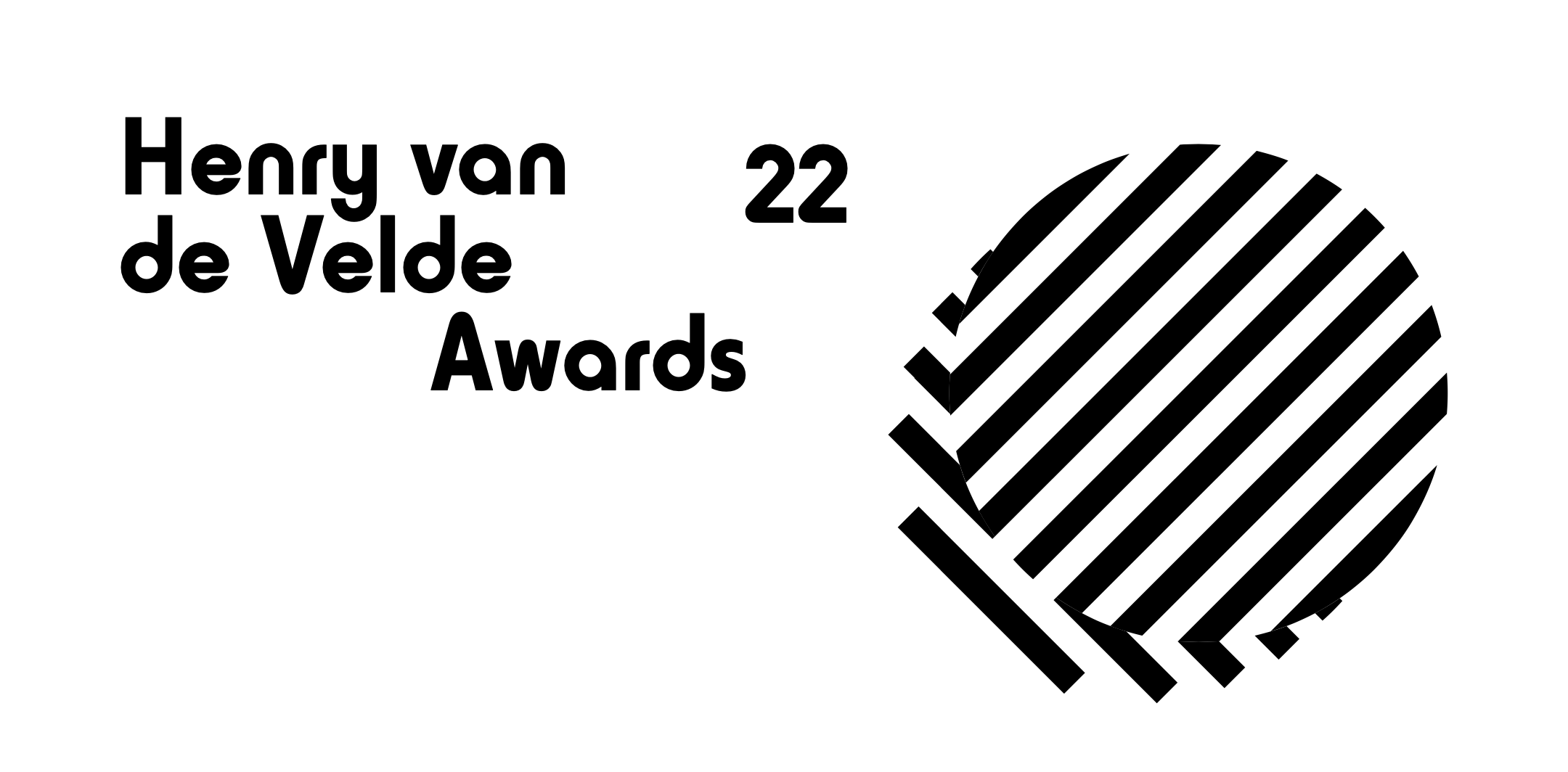 For 28 years now, the Henry van de Velde Awards has been showcasing Belgian products and services that demonstrate the added value of design in its most varied aspects. The Henry van de Velde Awards 22 clocks in at a record number of entries. The jury went through 435 entries and reached a ranking of three winners per category. From a serious game to hand-woven carpets to a brand new Braille alphabet, the winning overview is a sample of innovative, high-quality and inspiring design. During the presentation of the Henry van de Velde Awards on 8 February in Bozar, we will find out who will be taking home the Gold, Silver and Bronze Awards per category. The Lifetime Achievement, Young Talent, Company, Ecodesign by OVAM and Public Gold Awards will also be announced.
Just like they are every year, the Henry van de Velde Awards are a recognition of the work of designers and companies or organisations that integrate design in their business in an intelligent manner. Which projects emerged in the rich Flemish design landscape this year? Flanders DC put together a diverse professional jury that retained three winners in nine categories. There are a number of new categories this year that could immediately count on a good harvest of entries. The awards themselves have also been renewed: not only are there Gold award winners, but the jury also awards a Silver and Bronze award per category.
Once again, the public can help determine which entry wins the Public Gold Award. You can vote online at henryvandevelde.be from 16 November up to and including 23 December 2021.
So here they are... the Henry van de Velde Awards 22 winners
Below you will find an overview of the winners in alphabetical order. During the presentation of the Henry van de Velde Awards 22 on 8 February in Bozar, you will find out who is going to take home the Gold, Silver and Bronze Awards. The Lifetime Achievement, Young Talent, Company, Ecodesign by OVAM and Public Gold Awards will also be announced.
Category: Business Innovation
12work by Studio Dott. for the City of Mechelen
With 12work, the city of Mechelen wants to eliminate the thresholds in the traditional recruitment process. Thanks to a thorough service design approach, every possible step in the path of both jobseekers and employers was investigated and tested. You can find more information here.
Battery Collection Containers by Pars Pro Toto for Bebat
Pars Pro Toto reviewed the entire Bebat collection chain and developed a series of new containers and procedures to make the collection process safer, smarter and easier. Steel drums, a smart transport cover and an active Internet of Things (IoT) controlled monitoring system ensure an optimised collection system. More info here.
Morphemat by Voxdale for Ergotrics
The Morphemat® is a medical device that allows healthcare providers in the Intensive Care Department (ICU) to lift patients of up to 150 kg effortlessly from a reclined position to a stable side position. Morphemat® minimises both the working time and physical strain of the healthcare provider. More info here.
Category: Consumer
Åska Bike by Achilles Design for Åska Bike
Åska Bike is the real deal in terms of sustainability. Long service life, local production and a European supply chain combined with cutting-edge manufacturing technology, product architecture and design make this Speed Pedelec a great alternative to the car. More info here.
Minze Dairy Pod by Minze Health
The Minze Diary Pod is a medical device that helps patients keep a bladder diary for the diagnosis and monitoring of urological problems. The hand-held and ergonomic reservoir automatically measures the volume and time of each urination and sends it in real time to the urologist. With the Diary Pod, Minze aims to improve the diagnosis of urinary problems and lower the threshold for seeking help. More info here.
OYO Baby Monitor by Pars Pro Toto for QLEVR
The OYO Smart Baby Monitor is a smart monitor that helps keep an eye on new-borns and toddlers. The monitor tracks the child's breathing rate, temperature and body position and shows these data in real time in the OYO app. The OYO monitor doesn't look like a surveillance product, but a cute baby product. More info here.
Category: Crafts
Bite Me by Sam Druant 
In her work, Sam Druant provides a feminist critique of the narratives about gender roles embedded in Western culture and of the sexism still confronting women on a daily basis. The Bite Me carpet plays with the historical female connotation in textiles, handiwork and soft materials. Through the contrast in text and image, Sam Druant changes the dominant narrative in a playful and ironic way. More info here.
Kontour by Pinkoliv
Kontour starts from used saddle frames that until recently ended up in residual waste and gives them a new life. Kontour combines authentic leather craftsmanship with digital design. Thanks to the integration of the digital processes, it remains affordable for the customer to buy unique, handmade saddles. More info here.
Woven Connection by Delphine Cobbaert
Delphine developed Woven Connection based on a specific request to produce different sizes of carpets. Each of Delphine's designs starts with a thread of different colours, textures and high-quality natural materials (wool, mohair, flax, cotton and jute) that she weaves by hand into different pieces and then stitches together with her own developed embroidery technique. More info here.
Category: Design Research
Braille meets Emoticons by Walda Verbaenen/Readsearch PXL MAD School of Arts / UHasselt
Emoticons are universal images used to capture how someone is feeling in one image. People who use the Braille language to read and write have no alternative to these language-independent universal symbols. In this typographic experiment, Walda designs a number of emoticons to complement the Braille alphabet. Braille Dingbats visualises the 22 most commonly used emoticons for the blind and visually impaired and builds them a bridge to visual language. More info here.
Ecology of Colour by Laboratorium for KASK & Conservatorium/ HOGENT School of Arts/ Howest
At the crossroads between art, design and biotechnology, this research identifies the environmental impact of the colour industry and creates a shift towards a sustainable approach to colour. The research focuses on new applications and techniques in traditional colour production. Ecology of colour develops ecological inks with pigments from microalgae as well as a sustainable colour palette of structural colours. More info here.
The Exploded View by Biobased Creations/ Stichting Nieuwe Helden for Dutch Design Foundation/ The Embassy of Circular & Biobased Building
The Exploded View Materials & Methods is the result of a multi-year research programme in which designers, entrepreneurs, researchers, policymakers and storytellers join forces to look for sustainable answers to the building challenge that the Netherlands currently faces. Using the metaphor of a house, The Exploded View materialises its vision of affordable, sustainable and circular homes from bio-based materials. More info here.
Category: Digital Product
BabelAR by Thomas Meynen/LUCA School of Arts for Wim Forceville
BabelAR is a multilingual puzzle adventure in Augmented Reality (AR). The game teaches children between 7 and 12 the value of the languages they speak (or do not speak) and strengthens their language and cultural awareness. Thanks to their linguistic knowledge and through smart cooperation, children must make the little creature Babelar find its way home. BabelAR is part of the VirtuLApp toolkit and can currently be played for free in 14 languages. More info here.
Digiphy by Lowie Vermeersch for Granstudio
Digiphy is a Mixed Reality design and communication tool that Granstudio designed to further digitise the automotive industry in both the design and review process. Digiphy was designed as an open-ended platform for designers and allows a wide range of physical carriers to be integrated, making it suitable for many applications. More info here.
Silver by Create.eu for Flemish Expertise Centre for Suicide Prevention/ UGent
Silver is a mobile serious game that focuses on strengthening mental health in young people between the ages of 12–16. In Silver, young people follow a character at a fictional festival. The course of the story adapts depending on the choices you make as a player throughout the game. The game helps players to better understand thoughts, feelings and thinking patterns. Silver was developed in a co-creation with young people, child psychologists and psychiatrists, and Do Van Ranst and Jonas Boets, two renowned Flemish authors of youth books. More info here. 
Category: Environment
Biodiversity in forest, city and garden by Utilise Objects for Wood Design
Utilise Objects seeks aesthetic solutions for residual wood that degrades over the years and in turn becomes food for nature. These designs are available not only for nature reserves but also for the more urbanised living environment such as parks, gardens and in the city. More info here.
Materialism with Emotion by Onbetaalbaar
Every product that Onbetaalbaar develops tells its own story and offers the most ecological possible answer to a specific question. Onbetaalbaar is a think tank and a research and workplace that focuses on reuse and the application of sustainable and circular materials. Onbetaalbaar creates interior projects both for private individuals and for companies; it does so in private and public spaces and collaborates in this regard with other creators and designers, local producers and sheltered employment companies. More info here.
ONTketen by Livable Platform/Circular Matters
In the ONTketen project, clean-tech start-up Circular Matters and design platform Livable join forces for a circular and bio-based future. As a green start-up, Circular Matters developed a biopolymer as an alternative to hard plastics and wood-based panels and completely free of fossil and mined raw materials. Thanks to a business matchmaking between production partners NIKO, Van Hoecke and ETAP on the one hand and design studios Esther Van Schuylenbergh, Brent Neve & Giel Dedeurwaerder and Studio Atelier PART on the other, the ONTketen team is looking for applications and products of the biopolymer. More info here.
Category: Graphics
GUM house style by Pjotr for the GUM (Ghent University Museum)
The house style developed by Pjotr for GUM is inviting and accessible and contains references to scientific elements. The concept consists of a series of scientific references and collages based on photographs or scans of objects from the museum's rich collection. The style includes leaflets, posters and business cards, and has also found its way into the museum shop in the form of postcards, pencils, erasers and tote bags. More info here.
The Icon Project by Kern 02 for Cisco Systems
In 2011, international IT supplier Cisco decided to no longer represent the connections on a number of their products using letters or words but with icons. Graphic design agency Kern02 developed a series of simple, inclusive icons whose style was deliberately kept plain, simple and abstract. The graphically consistent style of the icons has now become Cisco's corporate product icon style. More info here.
The Poster House Campaign by Klaas Verplancke for Poster House
Inspired by the humour of Tomi Ungerer, Klaas Verplancke designed illustrations and animations for a public communication campaign following the reopening of the Poster House museum in New York, after the first COVID-19 lockdown in 2020. The posters and animations appeared on all 1800 digital billboards on the streets of New York, including the screens in Times Square and at the Lincoln Tunnel. More info here.
Category: Habitat
Gradient Rug by Emma Terweduwe
Gradient Rug is a multifunctional jacquard woven and felt rug, made from merino wool, mohair, linen and cotton recovered from deadstock. The combination of techniques, both industrial and manual, shows off the tactile qualities of these natural materials to their best advantage. More info here.
Inti by Kristof Pycke for Kreon
Kreon Inti gives the lighting designer a tool to create different atmospheres in architecture without unnecessary "noise" with a single downlight. Two different light patterns are combined from one light point: targeted point lighting and diffuse lighting. More info here.
Space-R by Roel Vandebeek for AVC Gemino 
The challenge in developing Space-R was to be able to arrange and rearrange offices vertically in a quick and sustainable way. The result is a circular plug-and-play solution with profiles, panels and doors that are easy to install and move, without permanent damage to the ceiling and floor. The system grows with the building, offers the architect a circular long-term solution and greatly simplifies production, logistics and installation processes. More info here.
Categorie: Spaces
Muziekcentrum De Bijloke by DRDH Architects in association with Julian Harrap Architects/Studio Helder/Onbetaalbaar for Muziekcentrum De Bijloke 
In the renewed concert hall at De Bijloke, DRDH Architects combines the qualities of the original space with the acoustic advantages of contemporary concert halls. This results in a lively space where 830 enthusiasts can experience both classical and contemporary music in what is also a worthy home base for the Flanders Symphony Orchestra. For the foyers, they worked with young artists such as Studio Helder and Onbetaalbaar to recycle as many original elements as possible and to give them a surprising new destination. More info here.
Scenographies by decoratelier Jozef Wouters for Damaged Goods
Scenographies is a modular grandstand system that can be used again and again for various projects or clients who want to transform a (public) space. The base of the grandstand system consists of second-hand pallet racks and a wooden frame made of recycled wood that can be easily recycled (or recycled again). It provides an answer to the urgent question from the arts (and performing arts) and events sector about alternative theatre spaces. More info here.
Tunneltaal by Studio Manon for the municipality of Rotselaar
The Tunneltaal project is part of the master study Het Sociale Spel (The Social game) by Manon Lambeens in cooperation with the municipality of Rotselaar. In her study, she starts from the question: what is the designer's position in society? Manon Lambeens involved as many local young people as possible to turn a dark, unsafe tunnel into a socially connecting symbol. The tunnel is a metaphor for the time in which research was made a reality: connecting and illuminating in socially difficult times. More info here.
Voting for the Public Gold Award
This year too, the public will decide which entry will win the Public Gold Award. You can vote online at henryvandevelde.be from 16 November up to and including 23 December 2021.
Award ceremony and Exhibition
The festive ceremony of the Henry van de Velde Awards 22 will take place on 8 February 2022 in Bozar. The winners of the Gold, Silver and Bronze Awards will be announced for each category. The Lifetime Achievement, Young Talent, Company, Ecodesign by OVAM and Public Gold Awards will also be announced.
All winners will be given a place in the Henry van de Velde Awards 22 exhibition, which runs from 9 February to 10 April 2022 at Bozar. The exhibition will be free of charge.
About the Henry van de Velde Awards
The Henry van de Velde Awards are presented every year by Flanders DC and have represented an established value in the design landscape since 1994. This year, the awards were made possible thanks to the support of our partners: Flanders Innovation & Entrepreneurship (VLAIO), Centre for Fine Arts (Bozar), Public Waste Agency of Flanders (OVAM), Bokrijk, the Flemish Environment Company (VMM), and Z33 - House for Contemporary Art, Design and Architecture.
Detailed information about the awards, winners and jury members is available via https://www.henryvandevelde.be/
More information