These 20 design and fashion talents are going to make it big in 2023!
The '20 to watch'-list from Flanders DC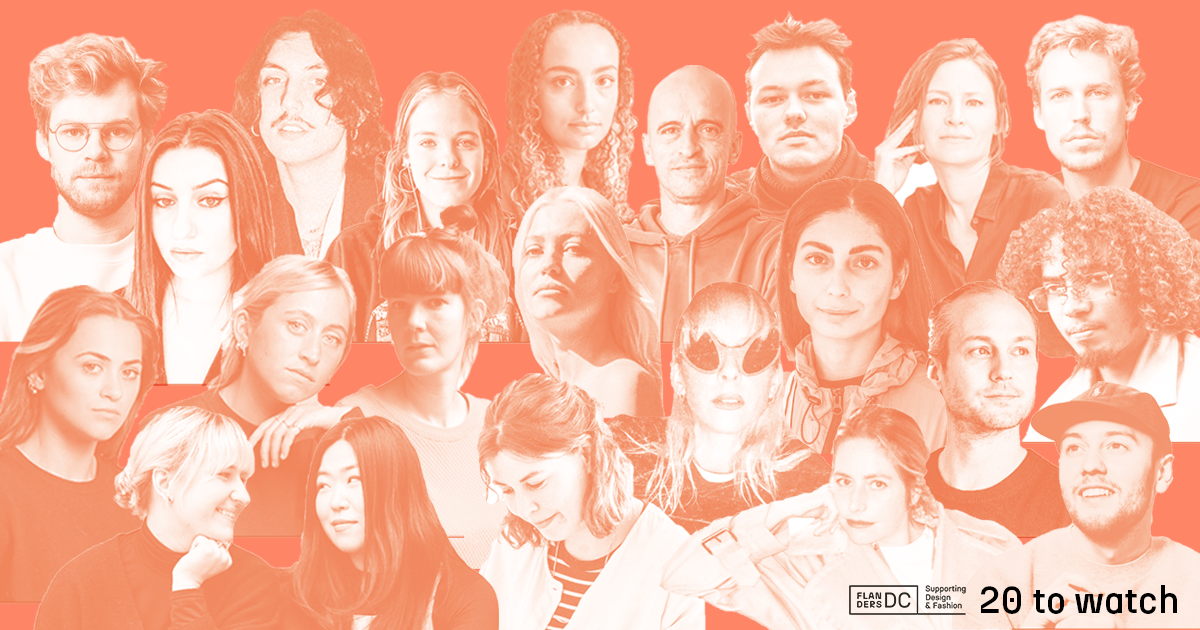 In the '20 to watch' overview Flanders DC presents 10 emerging talents from the design sector and 10 promising talents from fashion. Meet twenty designers who took their first steps in the design or fashion world one or several years ago and who Flanders DC believes will take it much further in the near future.
1. Furniture and interior designer Amber Dewaele
As a child Amber Dewaele was constantly redecorating her room. Her love for furniture translated into a product development study. Although she often starts from a story for her poetic designs, the research into materiality is her main motivation.
2. Fashion designer Aysegül Öz
Aysegül Öz is in her master year of fashion studies at KASK Ghent, but is already showing tremendous potential. With her chic evening wear, she is a master of draping and honors her Turkish roots.
3. Charlotte de Geyter from fashion label Bernadette
Together with her mother Bernadette de Geyter, designer Charlotte de Geyter is conquering the world with the luxury label Bernadette. Around the globe premium (e-)boutiques - from Net-A-Porter to Harrods - are jumping for their elegant evening wear with a romantic touch. An enormous achievement for a brand from Antwerp that has only been around for three years and in the meantime also produces tableware.
4. Product designer Bertrand Lejoly
For eighteen years Bertrand Lejoly worked for other designers. Among others he was Head of Product Design at Vincent van Duysen. Since establishing his own studio in Antwerp in 2021, he has designed for Zanotta, Serax, etc. His work for Duravit has won several awards in 2022, including two German Design Awards and a Red Dot Award.
5. Deborah Bloemen from jewelry label Echo Shawna
Echo Shawna is the passion project of Deborah Bloemen, by daytime co-founder and creative director of art studio UBER and KOSHER. With her handmade jewelry made from objets trouvés, she takes upcycling to the next level and walks the fine line between high end and kitsch. Dutch pop star Sevdaliza and American rap star Doja Cat are already loving it.
6. Joachim Froment from design label Futurewave
Together with two associates Joachim Froment founded Futurewave in 2020. Today the team has fifteen people and designs a wide variety of industrial products, from sports watches over bicycles to lighting and furniture.
7. Textile designer Leda Devoldere
After studying textiles at KASKin Ghent, Leda Devoldere built a collection under the name Atelier Leda, translating her colorful, geometric universe to different mediums. She brings her creations in small editions.
8. Marc Pengel from fashion label Marc Martha
He only graduated last year from the fashion academy of Antwerp, but already Marc Pengel is making waves with his own label. Marc Martha is the ultimate synthesis of his Caribbean roots and European culture.
9. Textile designer Marijke De Cock
After graduating from the Antwerp Fashion Academy, Marijke De Cock joined Dries Van Noten in 2003. While still half-time designing jewelry there, she is now also pursuing her own creative dreams. This year she received a Henry van de Velde Award in the Crafts category for her objects that are hand embroidered with glass beads.
10. Jewelry label Mass Lee
With their Antwerp-based jewelry label Mass Lee, Finnish Josefine Mass and South Korean Dabin Lee bridge the gap between art and fashion. They draw the inspiration for their handcrafted creations primarily from their culture, nature and art history.
11. Fashion designer Mattea La Rosa
With his gender-inclusive designs that refer to the avant-garde fashion of the 1980s, Matteo La Rosa is scoring big time. Tom Eerebout, Lady Gaga's Flemish stylist, is a fan. After a few seasons of prêt-à-porter, La Rosa is today fully committed to couture.
12. Fashion designer Meryll Rogge
She learned the ropes at Marc Jacobs in New York and as head designer of Dries Van Noten, but now Meryll Rogge is putting down her life's work with her eponymous label. Her energetic designs that often walk the fine line between daywear and evening wear are hitting the very best boutiques in the world. In 2021 she won the Belgian Fashion Award for emerging talent.
13. Fashion label Rosie Antwerp
Born in 2021, the label Rosie Antwerp is the project of two sisters from Antwerp. With her elegant and playful designs, Marie Martens, who graduated from the academy in Antwerp in 2020, creates a unique universe. Sister Ellen mainly takes care of the business management. An unstoppable team.
14. Graphic designer Sofie Deckers
A child of her generation Sofie Deckers colors outside the borders of her discipline. In addition to her applied work as a graphic designer for design label Volmaakt, she, among others, creates artistic work in which she seeks out spatiality.
15. Upcycling fashion company Studio Circulaire
Studio Circulaire makes new creations from unsold stock. Valentine Tinchant is the designer, Antony Hartmann the founder and managing director. They also offer their upcycling concept to other brands, such as Essentiel Antwerp. With one mission: to boost Belgian craftsmanship and put as many seamstresses as possible to work in Belgian ateliers.
16. Furniture designer Thibeau Scarcériaux
Balancing on the border between art and design Thibeau Scarcériaux creates poetic objects with a strong story. With his design objects he wants to sparkle conversations, help break taboos and contribute to a better world.
17. Graphic designer Victor Verhelst
A child of his generation graphic designer Victor Verhelst translates the constant flow of images both substantively and aesthetically into his creations. With his colorful universe he wants to amaze people and bring a touch of magic into their lives.
18. Furniture designer Wouter Persyn
As an architect, furniture designer and artist, Wouter Persyn can wear many hats. At the same time this multidisciplinary outlook lends a richness to his designs. His love for furniture is inspired by the intimate intertwining of aesthetics, concept and functionality.
19. Graphic designer Yanis Berrewaerts
Even when he was studying graphic design at the Antwerp Academy, Yanis Berrewaerts already began freelancing. Now, having graduated for a year and a half, he runs his own studio and explores the way we can use technology to represent ourselves online.
20. Zarina Rouge handbags
Kazakhstani-Belgian designer Zarina Khassenova has only just made her label Zarina Rouge her main occupation. With sophisticated handbags in cheerful colors she sets the bar high, offering durable products that stay away from exorbitant prices.
More info on the 20 to watch: https://www.flandersdc.be/en/magazine/20-to-watch
---