What's on at Contemporary Design Market 2022?
You're invited for the Press Preview - Saturday 24/09/22 - 10h30 - Gare Maritime, Tour & Taxis Brussels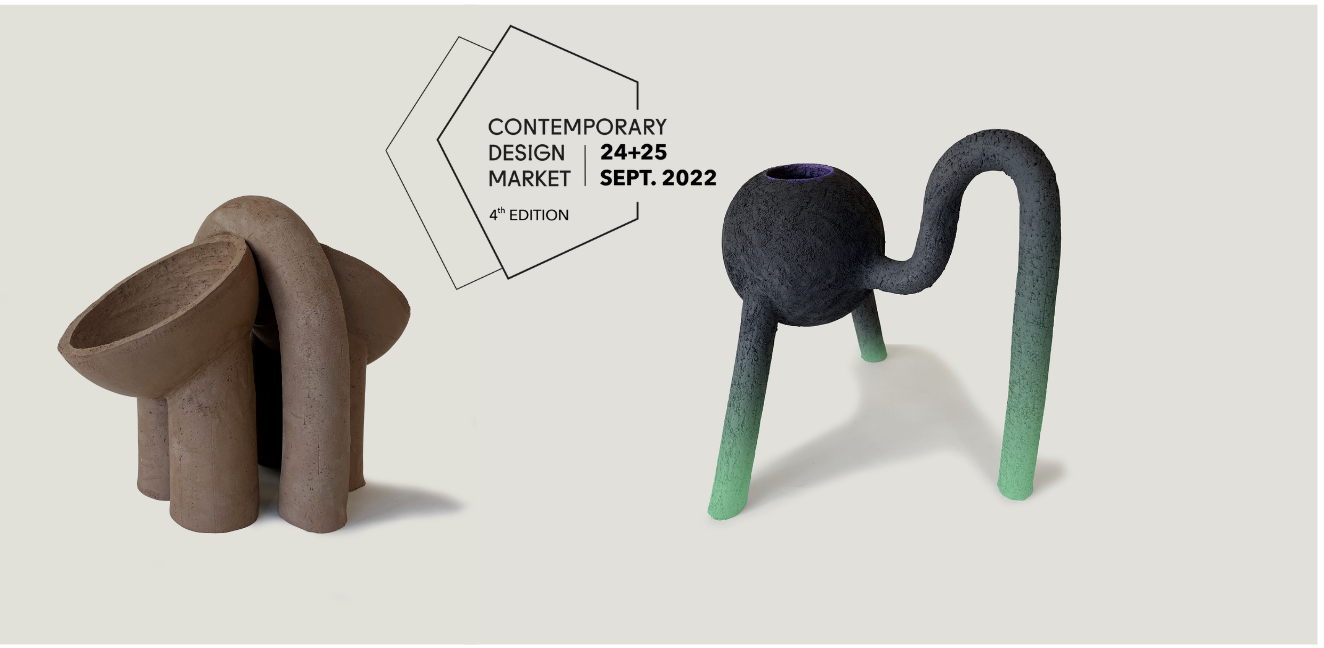 On 24 and 25 September 2022, the Gare Maritime -Tour & Taxis will once again be entirely dedicated to design. The Contemporary Design Market (CDM) will present some 50 designers based in Belgium, a mix of established names, up-and-coming talent and an innovative concept, BINÔME, which brings together a duo from different cultures. Guest of Honour this year is studiokhachatryan of Armenian designer Noro Khachatryan.
"While today's multicultural society contains a wealth of tastes, styles, colours and fragrances, this diversity has not yet (sufficiently) penetrated the design field. CDM wants to be a game changer and launches the BINÔME concept : two designers from different cultural backgrounds bring their know-how together. This is the starting point for an investigation into what connects them and ultimately results in a common visual language. This way CDM wants to bring about a change from within." says design expert and co-organiser Hanne Debaere from Flanders DC.
BINÔME 
Pieter Bostoen and Gilles Mayk Navangi both participated in Contemporary Design Market 2021, this year they are joining forces for the new BINÔME concept. Pieter Bostoen is a versatile designer who works in the fields of interior design & graphic design, product design and art. Gilles Mayk Navangi is a painter, illustrator and sculptor. His work focuses on the phenomenon of civilisation, with a particular interest in African cultures and traditions.
For this collaboration, they have delved into their interests, motivations and world views to come up with a project that is representative of their identities. With their creations, they want to draw attention to the tragic fate of various endangered species. The Binôme collection will consist of ten collectible design objects: pots, totems and meditative sculptures.
The unique objects will be presented for the first time at CDM. In January 2023 the designs will also be commercialised by Belgian producer and label Serax.
Out of the Box | ADORNO x CDM Collection
CDM is honoured to once again have collectible design platform Adorno as a partner.
Adorno is a digital gallery that brings together the best of contemporary collectible design worldwide. Selected by a network of curators in major design cities, Adorno's collections offer a unique insight into the world's diverse creative communities. Each collection features exclusively unique or limited-edition contemporary work. The designers include both established names and emerging talents.
This year curator Elien Haentjens selected 10 CDM designers for the collection 'Out of the Box'. The collection will be launched online during the opening of CDM on 24 September met:
Bram Kerkhofs, CASH, Elisabeth Baeza, Fractall, Lou van 't Riet, Nicolas Erauw, Pieter Bostoen & Gilles Mayk Navangi (Binôme), Thibeau Scarcériaux, studiokhachatryan, Studio Part. ​
NATIONA(A)L Artist Market ​
CDM is also pleased to announce its partnership with NATIONA(A)L Artist Market, the Belgian platform and marketplace for local artists.
The collaboration with CDM entails a selection of CDM designers who will showcase and sell their work on the platform for one year. The participating designers will be announced this week on the website and will be highlighted during CDM.
CDM at DESIGN ART NIGHT (7 Sept. 2022)
During Design Art Night design lovers are able to meet new names in the contemporary design world. The 5th edition will take place on Wednesday 7 September at Fosbury & Sons Boitsfort in Brussels and puts the spotlight on Contemporary Design Market.
The speakers are Guest of Honour Noro Khachatryan, Gilles Mayk Navangi & Pieter Bostoen (Binôme) & Young guest Thibault Scarcériaux.
The organisers are Veerle Verbakel Gallery, an initiative of Veerle Verbakel, business consultant and engineer based in New York City, and Statius PR, the Antwerp-based PR agency of Maarten Statius Muller, specialised in contemporary design, architecture and art.
https://fosburyandsons.com/calendar/boitsfort-design-art-night-5th-edition-boitsfort-brussels
ABOUT CONTEMPORARY DESIGN MARKET
Contemporary Design Market is a unique presentation and sales platform for both established and emerging Belgian contemporary designers. The opportunity to meet Belgian designers and to discover and buy their work. ​
​Contemporary Design Market is part of the Design September programme and is an initiative of Flanders DC, Brussels Design September and Wallonie Design. 
Download all press images here
ALL PARTICIPATING DESIGNERS
Adrien Mans - Amber Dewaele - ATELIER LEDA - Atelier Verdonck - BNKR Studio + Bunker D14 - Bram Kerkhofs Design Studio - CASH - COSEINCORSO - Daan De Wit Studio - Duplex Studio - Elias Van Orshaegen - Emma Cogné - Estelle Chatelin & Georges Ahokpe - Fractall - Frits Kuitenbrouwer - Futurewave - Giel Dedeurwaerder & Brent Neve - Gilles Mayk Navangi & Pieter Bostoen - Hanne Cornette - Holso - ID&A Thomas More Mechelen - Jan Goderis Design Lab - Jeff Rutten Objects - Kewlox - Laure Kasiers - Lou van 't Riet - Louise Daneels - LUCA SCHOOL OF ARTS - Mademoiselle Jo - Maison Tricot - Mala Leche Design - ONBETAALBAAR + HITCH concept - Paulineplusluis - Pawel Pwaniewski - Peter Donders - Sébastien Caporusso - SOULACE - Studio Nicolas Erauw - Studio Part - Studio Tim Somers - studiokhachatryan - Thibeau Scarcériaux - Thomas Renwart - Tine Loncin - Verstrepen.studio - Wouter Persyn - Yves Obyn - ZaventemAteliers
Catalogue designers CDM 22.pdf
PDF - 20 Mb
Download
TIMING
Saturday 24 September 2022 from 10h-18h + Press preview at 10u30
Sunday 25 september 2022 from 10h-17h
Gare Maritime (site Tour & Taxis)
Rue Picard 11, 1000 Brussels
https://www.contemporarydesignmarket.be