You're invited - Launch A/part
20 unique products - The result of 20 unique collaborations between fashion designers, creative talent and Antwerp shops - discover them on the 4th of November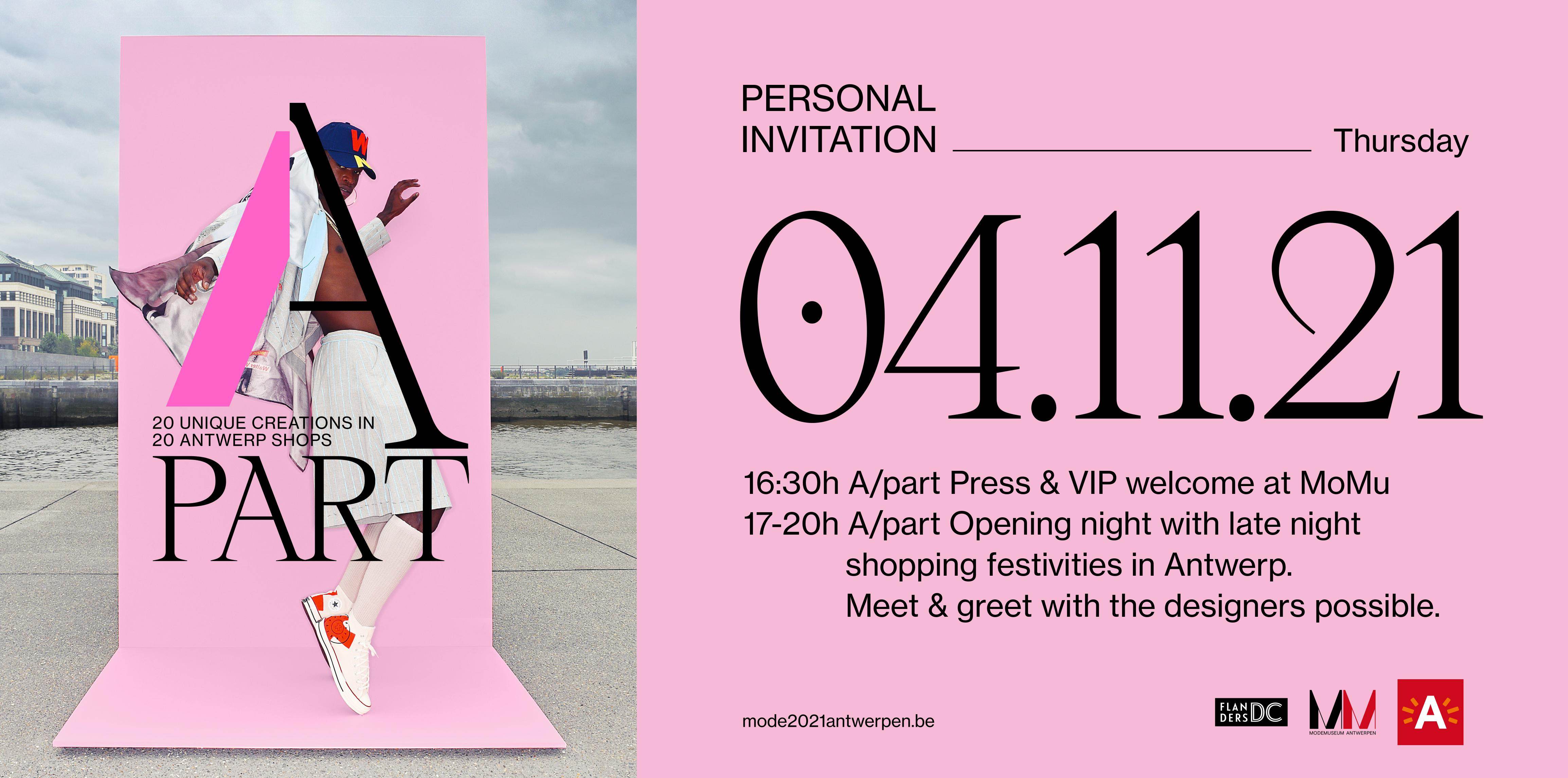 Mark Thursday 4/11 in your agenda for the festive opening of A/part between 5pm and 8pm in all participating shops during a festive late night shopping experience in Antwerp.
You are also invited to the official kick-off between 4.30 pm and 5 pm at MoMu. You will get more info (and a goodie), receive a shopping plan, be able to talk to the organisers and curator Baloji.
Good to know
​All designers from Raf Simons, Elodie Ouédraogo, Walter Van Beirendonck, Tamino, Christian Wijnants, about An Vandevorst & Filip Arickx, Meryll Rogge, Tom Vanderborght, Veerle Baetens, Lefto to Nathalie Vleeschouwer, Jan-Jan Van Essche, Stephanie D'heygere, FAÇON JACMIN, Wouters & Hendrix, etc. will be present in their shops.
In the streets and on the squares, performers, dancers and musicians will provide ​ entertainment.
https://www.momu.be/en/exhibitions/a-part
---
ABOUT A/PART
A/part is a part of 'Fashion 2.021 Antwerp, a fashion festival to celebrate the reopening of Antwerp ModeMuseum in September 2021. The renovated museum will be celebrated throughout the entire year by way of an ambitious programme designed to highlight the Antwerp fashion industry in general.
Twenty unique collaborations were set up for A/part, pairing both established names and emerging talent in the fashion, art, music, film and retail sectors. 
INITIATORS
Commissioned by the alderman for retail trade and tourism, Koen Kennis, the City of Antwerp and MoMu, Flanders DC hopes with this initiative to encourage cross-pollination between fashion and other creative sectors in the city while at the same time highlighting the local fashion and retail sectors. It's yet another confirmation of the huge amount of talent which makes Antwerp a fashion city.
Alderman for tourism and retail Koen Kennis: " I strongly believe in this type of collaborations. Each sector stimulates another, and stimulates Antwerp. A/part is the result of the intangible and valuable fashion industry in Antwerp, an industry that continues to provide Antwerp with 'A-typical' fresh talent and a certain 'coolness' on an international level. In the slipstream also other creative industries in our city prosper." 
20 UNIQUE CREATIONS
Each collaboration resulted in a tangible end product, the total offer will appeal to a wide audience with something for everyone's taste or budget. From jewellery and clothing to design objects: the finished result of each of the collaborations is surprising and unique every time, centring on creativity and innovation. The various creations will be temporarily available and for sale between November 4 and 20, 2021 in the 20 shops in Antwerp.
The list of participants and retailers (last):
1. An Vandevorst & Filip Arickx / Lockwood Avenue 
2. Art By CASH / JBC
3. Bo(y)smans / VIER
4. Brandon Wen / Café Costume
5. D'heygere / DEEWEE / Ganterie Boon
6. Dodi Espinosa / Eat Dust
7. FAÇON JACMIN / Wouters & Hendrix
8. HNST / Veerle Dejaeger / Monar
9. Jan-Jan Van Essche / Tamino / Atelier Solarshop
10. Julie Kegels / Essentiel Antwerp
11. Meryll Rogge / Kiosk Radio / The Lot Radio / Lefto / Kim Ann Foxman / Copyright Bookshop
12. Miglot Fragrance Lab / Nathalie Vleeschouwer
13. Raf Simons / Pieter Stockmans / Donum
14. Tessa Dixson / Lacuna Studios / Billion Avenue
15. Tom Vanderborght / A.S.Adventure ​ 
16. Veerle Baetens / Jill Antwerp
17. Walter Van Beirendonck / Mous Lamrabat / De Makers Gallery
18. YNGR / Anthony Nti / Labels Inc.
19. Yuma Labs / Christian Wijnants
20. UNRUN / KOMONO
Download all productshots here
Download all campaign images here
Download the shopping plan with all addresses here
---
PRACTICAL INFO
A/part will run from November 4 through 20, 2021
https://www.momu.be/en/exhibitions/a-part
#ApartAntwerp
Opening event with late-night shopping: November 4, ​ 2021 from 5PM to 8PM in the participating shops in Antwerp
Download here the shopping plan with all addresses
Press preview: November 4, 2021 at 4.30PM @ MoMu, Nationalestraat 28 Antwerpen.
Possibilities for interviews and shopping plan upon request:
[email protected] / [email protected]
​
​Tel. Aurélie 0477 18 06 09 ​ / Tel. Dirk 0477 234 764