The Henry van de Velde Gold Award Winners 2020: these are the winners!
On January 22nd, Flanders DC distributes the 12 Henry van de Velde Gold Awards 2020 in BOZAR, Brussels, Belgium.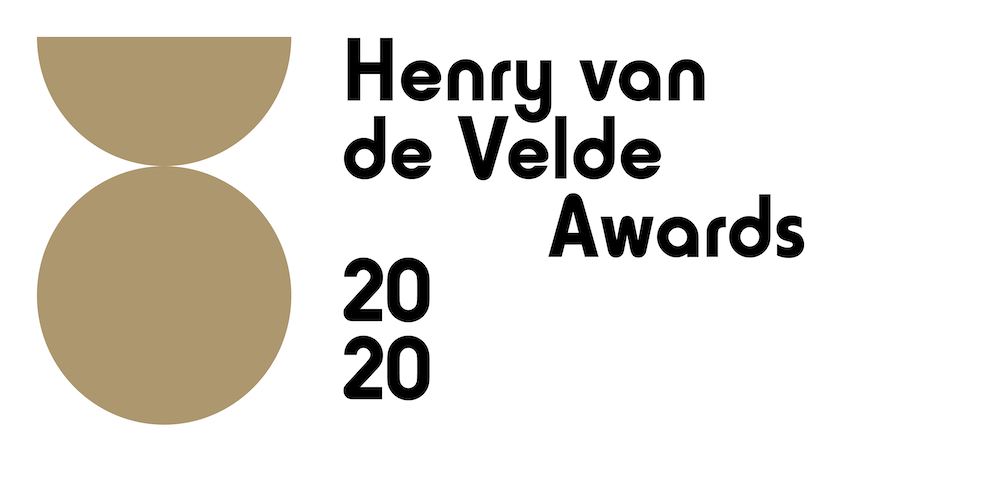 For more than a quarter century, the Henry van de Velde Awards honour Flemish designers, companies, products, projects and services in the design sector that have a positive impact on our society and economy. These awards emphasize the important role of the designer and his clients in the society at large.
"The Henry van de Velde Awards 2020 show that today, design is everywhere. Every one of the winners has their own 'beautiful' story with an added value. Stories about a sustainable world, stories about maintening the social fabric, stories about solving everyday problems. And yes, sometimes about beauty whether it's connected to functionality or not. Designers are thé bridge between the creative and functional world. They give the world a better plan and that's what the Henry van de Velde Awards are all about!" Pascal Cools, Managing Director Flanders DC.
In November Flanders DC released the Henry van de Velde Award Winners 2020. There are 21 winners, divided over 7 categories. On January 22nd 2020 we distribute the Henry van de Velde Gold Award Winner for each category, together with the awards for Lifetime Achievement, Company, Ecodesign by OVAM, Young Talent and Public.
These are the 12 Henry van de Velde Gold Award Winners 2020:
Henry van de Velde Lifetime Achievement Gold Award 2020
This award honours a designer that or design studio which has operated for at least 30 years and has had a national, and certainty international, impact at the economic, social and/or cultural level as a result of his/her/its design activities.
The winner is Erik Sijmons, inhouse designer at Samsonite since 1986 and responsible for the design of Cosmolite. "Although I see myself as a generalist, it's so nice to create suitcases, because they bring up exciting and beautiful memories with everyone. For the jury, it's hard to underestimate the importance of Erik Sijmons at Samsonite. He gives form to this brand and provides crucial innovations.
Henry van de Velde Company Gold Award 2020
A prize for private or public sector organisations which make strategic use of design and designers in their company or institution. The aim is to reward good commissioning in relation to design. The main criteria are professionalism, strategy, sustainability and innovation.
The winner is family company Niko. Niko celebrated its 100 years of existence in 2019. Light switches and interfaces seem self-evident products, everyday products, but Niko always provides a progressive and perfect design. Niko does that by investing for decades in a big group of inhouse designers. This fact is highly appreciated by the jury.
Henry van de Velde Ecodesign Gold Award 2020 by OVAM
A prize for a company or designer who functionates as a role model for other designers. This innovation convinces the jury through a well-considered choice of principles of ecodesign throughout the whole company structure and strategy and/or throughout the designed products and services. Important criteria are the impact, potential growth, vision and continuity within a theme.
The winner is Ecover. Ecover pioneers as an innovator since 1979 on the market of maintenance products. In terms of products as well as at company level, the brand has consistently chosen for an environmentally-friendly approach from day one. The fact that sustainability lies at the core of the company is crucial for the jury, together with the fact that Ecover has been working from the start with designers to help shape their products and the company.
For more information regarding the with OVAM and the Henry van de Velde Ecodesign Gold Award 2020 by OVAM, see the explanation later on in the press release.
Henry van de Velde Young Talent Gold Award 2020
This is the incentive prize for a young talent or bureau which has been active in the industry for no more than 10 years. The assessment focuses on the designer or bureau and looks at the quality of the portfolio as a whole.
Studio Plastique is a small, young design company. Theresa Bastek and Archibald Godts founded the company in 2016 at the Design Academy Eindhoven. Studio Plastique starts with fundamental research, often focused on sustainability. They work very holistically, they work with themes and with their own special point of view. Beside that, they're very sensitive, esthetically and they are real perfectionists.
They say:"The future is not to find more raw materials, but to detect existing raw materials and make them visible again. We need to look for the materials that are so easy to find and always remained invisible."
Henry van de Velde Business Innovation Gold Award 2020
A prize for innovative machines, installations and tools, transport tools and automation systems, made to be used in the industries or professional surroundings such as medical care, construction, agriculture. The focus is on efficiency gains, dismountability, modularity, automation, new technologies, robotisation,...
Demetra, Digital dermatoscope for skin problems
Design: Verhaert & Barco / Client: Barco
As a digital dermatoscope Demetra is unique. It combines the best of analogue and digital image processing in a flexible, wireless handheld device. With only one device, dermatologists can take any kind of picture, dermoscopic, clinical close ups and overview pictures. Moreover Demetra is more than a dermatoscope. The solution is a complete "skin imaging platform". The device receives the pictures, pictures are saved and analyzed in the correct patient file and they can be evaluated using a specific application. It also makes mapping, follow-up, and comparison of skin images smoother and smarter.
Henry van de Velde Collaborative Gold Award 2020
A prize for innovative and sustainable products, services and systems. Already in the beginning, a multidisciplinary team is working on the design process with all possible stakeholders and users to search for solutions and this by working via co-creation. This provides widely supported solutions and (technological) innovations. It provides change in sectors as health, quality of life, sustainability, environment and mobility.
Oase, sensorial spaces for people with physical and/or mental disabilities
Design: Bailleul Ontwerpbureau (Jelke Stoop, Thomas De Backer, Esmee Vanbeselaere, Nicolas Wybaillie, Joanna Kurdubelska) / Client: Het GielsBos
Oase offers sensorial spaces for people with physical and/or mental disabilities. Supervisors get the necessary tools in the spaces to make their clients laugh, to stimulate the senses, to challenge them or to bring them to rest. In this design, the focus lays on the aesthetic and the specific needs of the client, and accessibility takes on a new dimension. A cosy atmosphere and a beautiful perception are at least as important for people with physical or mental disabilities as for people without disabilities.
Henry van de Velde Consumer Gold Award 2020
A prize for final products that improve and facilitate the individual life. These products are especially developed for personal use and productivity in sectors as lifestyle, food, media and relaxation.
Vibe, Communication aid
Design: pars pro toto your growth, our design / Client: Jabbla, we all have a voice
The Vibe is an inclusive communication device especially developed for the growing group of mobile young people with aphasia. Designing the tablet, focus was on the user and his environment. During the research, several obstacles came up which were solved in this new computer. This lightweight and practical format (with a 10' touchscreen) provides a very portable and mobile communication device. The device has an integrated display on the front-and backside and became a unique device in supporting communication. The display on the backside ensures bystanders to read along and anticipate on the message that is formed and will be converted to speech, which makes natural communication easier. Face to face communication with friends, family and supervisors becomes self-evident and effective. Also, they tried to make a device that could compete with the usual consumer products and that was inconspicuous. Just like the everyday mobile phones, there is an integrated camera, so the Vibe user can take pictures and share them with others.
Henry van de Velde Crafts Gold Award 2020 by Bokrijk
A prize for a unique or in small badge developed object with an extraordinary form and esthetic, combined with excellent craftmanship and innovative use of materials, intended for consumers who are looking for sustainability, originality, exclusivity, esthetics and high-end workmanship.
Hey Jute, The forgotten qualities of a natural product
Design: Alexander Marinus
The Hey Jute cushion is a high-end artisanal product for which a new application was developed for forgotten material which results after extensive research for context, value and application. Jute is the second most-cultivated textile fibre in the world. Industrial processing and chemical treatment destroy the natural qualities of this ecological material and it tends to be used to make a utilitarian, cheap product.To examine this potential, Alexander Marinus developed a new craft method that fits in a small chain, there's no chemical treatment required and so we have a natural high-end product.
Read down below the press release more about the collaboration with Bokrijk/VAKlab and the Henry van de Velde Crafts Gold Award 2020 by Bokrijk.
Henry van de Velde Digital Product Gold Award 2020
A prize for a new or improved digital product wherein the user experience is a key aspect during the design-and development process and that focuses on an optimal digital interaction with the users. The solution came through a combination of design research and service- and interface design. New technologies are used and is based on user knowledge and business strategy.
SportKompas, An orientation tool for kids between 8 and 10 years old that helps making the right choice in sports
Design: Studio Dott (Suzan Bijloo & Jonas Callewaert) / Client: SportaMundi vzw, SportaMundi UGent. With the aid of Sport Vlaanderen.
Movement and sports contribute strongly to the welfare of children and adults alike. And young children do not move enough, despite the growing number of deals of sports and clubs. Often children and parents aren't aware of the possibilities in the neighbourhood or don't know which sport would fit them. When children choose the right sports, they will have more fun and will hold on to it for a longer time. This contributes to their wellbeing and a remaining healthy lifestyle. According to scientifically justified algorithms, SportKompas can choose the right sports at a young age (between 8 and 10 years old).
Henry van de Velde Graphic & Communication Gold Award 2020
A prize for the innovative development and design of letters, packaging and printed media, and for new media or new applications of existing media that have improved and/or altered communications directed at the consumer in an original manner.
B401 Bruggenbouwers, Campaign about the completion of a viaduct
Design: Heren Loebas (Stijn D'Hondt & Peter Van de Sijpe) / Client: City of Ghent - dienst Stedelijke Vernieuwing
The project B401 Bridge builders found its origin at the viaduct B401 in Ghent. This viaduct, also called flyover, forms the connection between the various motorways and the city ring. The city of Ghent completed a trajectory during a year with the study team of Tractebel and of 51N4E to investigate the future prospects for this location. Not just a drastic change, but a multiannual plan where the presence of the viaduct is being reduced and mobility is being developed. The starting point of this campaign are the so-called 'Bridge Builders': 14 citizens - who each have their own vision of the future of the flyover become the face of the campaign. It was important to reach as many people as possible from different sections of the population.
Henry van de Velde Habitat Gold Award 2020
A design prize for products, objects, services and systems for the private space and living space as well as work space.
The Light Machine, Lighting
Design: RotorGroup (Bernard Rommens) / Client: Re-Volt
The Light Machine is inspired by a mix of film set lightning, military jerry cans and mechanical details of a machine. The dimmer can be adapted to the exact preferred voltage that's showed on the integrated voltage meter. Because the lamp can be placed in several ways and the light density can be adapted, this little machine can be used in various ways: as an indirect uplighter in the corner of your living room, as an additional shop window light or even as a soft background light in your bedroom. During the design process they try to work with as many mechanical connections as possible that are replaceable or reparable.
Henry van de Velde Public Gold Award 2020
21 Henry van de Velde Award Winners hoped for votes of the public from November 14th till December 19th. There were almost 6000 votes. It's a clear win for The Waterbench with over ⅙ of all votes. The Waterbench is a design by Barbara Standaert for Ebema.
The Waterbench, a rainwater collection outdoor bench
Design: Standaert Design (Barbara Standaert) / Producer: Ebema N.V.
Cities form more and more bigger and paved surfaces. Barbara Standaert went looking for a solution to restore natural processes and go back to an urbanized landscape where green gets more attention. The Waterbench plays here with her functions as bench, planter and rainwater tank and connects them. The bank allows that the rainwater naturally seeps through the porous concrete cover and is collected in a water-tight concrete reservoir where the plants find their water and food. This permanent and natural water supply requires hardly any maintenance, ensures a permanent green touch in the city and has a cooling effect.
The Henry van de Velde show and award not only good design in all its aspects. They reflect what the society, the designers, the makers, the companies, the organizations and the governments are working on. They illustrate how designthinking can bring warmth, movement, solutions, future perspectives and simplification.
The Henry van de Velde Gold Awards 2020
For 7 of the 12 Henry van de Velde Gold Awards designers and companies could register (Business Innovation, Collaborative, Consumer, Crafts by Bokrijk, Digital Products, Graphic & Communication en Habitat). For 4 categories the independent jury chose on a basis of proposals of former winners and design experts (Company, Ecodesign by OVAM, Lifetime Achievement en Young Talent). For the Henry van de Velde Public Gold Award the public selected a winner by voting between 14 and 19 December 2019.
2020 is the year of new collaborations and big steps in existing collaborations. Since this year the Henry van de Velde Crafts Award by Bokrijk is awarded by Bokrijk/ VAKlab. Bokrijk has been working the last years around craftsmanship in several sectors and connected a competition to it. They also launch 22/1 the new BKRK-award #Glas where Flanders DC is also a partner. Designers and companies could not sign in anymore for the category Henry van de Velde Ecodesign Award by OVAM. The Henry van de Velde Ecodesign Gold Award by OVAM is now decided by the jury and goes to an inspiring example of focusing on ecodesign.
A remarkable recurring theme through all the winners is the attention for sustainability, an evolution that we, together with OVAM, can define and cheer for.
"This year the jury focused on the impact of industrial product development and design management by designer Erik Sijmons (R&D director Samsonite), and designate companies Niko and Ecover as laureates. Sustainability is also a recurring theme with these three laureates and is also a starting point of the Young Talents Archibald Godts and Theresa Bastek (Studio Plastique). With them we inaugurate a new generation of designers who really believe in the social role of the designer and who implement this consequently in their own business." Inge Vranken, Flanders DC
Exhibition
The award ceremony is followed by an exhibtion in BOZAR, Brussels.
The Henry van de Velde Awards
23 January - 29 March 2020
BOZAR Centre of Fine Arts
rue Ravenstein 23
1000 Brussels
free entry
open Tuesdays - Sundays 11 am - 6 pm
on Thursdays until 9 pm
Catalogus Henry van de Velde Awards
PDF - 8.0 Mb
Download
Teksten over Gold Winners
DOCX - 152 Kb
Download